Guest posting this week while Amber is on maternity leave is Dinorah Matias. So glad she's here! Increase your productivity by spiffing up your space with her insights… And maybe give yourself an excuse to go on a little shopping trip for some new office decor? Maybe?
How many times this past month have you felt anxious after sitting in your home office? One, five, or too maybe many to even try to count? And it's not the work that's creating that feeling, it's the space itself.
For me this feeling comes regularly, and I'm sure that for you might be the same. However, as an architectural designer, I know it shouldn't be like. A well-designed space should nurture the activity for which it was intended, while helping to motivate, inspire and even relax you.
Here are three essential tips for creating a workspace that helps you be productive and in sync:
1. Keep Your Color Palette Calm
Colors influence the way you behave; some colors create a calmer atmosphere, while others promote a more energetic vibe. You want to find a balance that gives you room to think, but helps boost your energy. For example, blues and greens are known to be more peaceful than the red and yellow palette.
Try to choose a soft palette for the overall space to foster an inspirational feel, then add some colorful accents in a more vibrant tone to spice up your space and enhance your productivity. If you want to learn more about the power of color click here.
via Fresh Home
2. Remember That Style Matters
Often our workspaces, especially home offices, are overlooked and treated as mere functional areas. This is a BIG MISTAKE! Give your office the same attention to detail you'd give to a kitchen or living room renovation because it is just as important. Stop waiting for the ideal moment to transform your space.
vintage industrial look :: via wellappointeddesk @ tumblr
2.a
Start by choosing a style. Create a virtual or physical folder and start collecting inspirational images of offices (and other spaces) you love for one week. Then review images to identify any trends or patterns. That can give you a strong indication of your own style preferences. For an example you can check my own Pinterest folder.
2.b
Create a big impact with a small intervention. If you don't have a big budget for an epic makeover, don't let that stop you. A budget under $100.00 and some paint, along with your DIY hustle can really transform a space. Choose a color that matches the style you love. And if you are a total newbie to painting, there's some great videos you can check out on DIY painting so you can master the basics like cutting into corners and how to get a clean line between you wall and ceiling.
2.c
Align your furniture style with your overall style. You don't have to have everything matchy-matchy. A more eclectic, personal style can actually help make your space more inviting. If you are keeping your current furniture, think out of the box about how you can modify them with a little DIY moxie. If you need inspiration for DIY furniture makeovers check out Pinterest or sites like Apartment Therapy.
3. Keep Your Space Clutter-Free.
A cluttered area only distracts your mind and prevents you from getting focused. Multi-taskers, I'm talking to you. Instead of having a pile of half-done projects spread all over the place, try giving everything a place so you can conceal those elements you don't need. A dozen pencils in your desk might look cute in a magazine, but do you really need them on your desk? Are they distracting you as you think about needing to sharpen them? Focus on keeping your space simple and minimal because clutter is a distraction which ultimately can affect your productivity.
CB2 via Gear Patrol
By taking the time to create a peaceful and productive workspace, you can help make the most of your work time and do it in a space that feeds your creativity and soul. The key is to just start by implementing some of the tips above.
We love calm and inviting workspaces here at NiceOps. Have you noticed Amber's books in her bookcase are colored coded? Let us know about your workspace and how you are making it work for you, and how it helps you be more efficient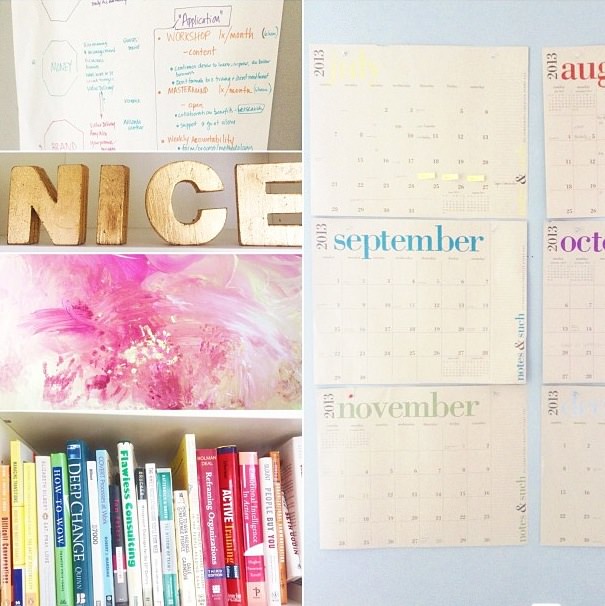 Dinorah Matias-Melendez
A NYC-based architectural and landscape designer with 10+ yrs of experience. She's the principal, and founder, at DMM Studio, a small collaborative firm specialized on transforming any small or chaotic urban space into a contemporary oasis. When she's not designing, she's traveling, hanging out with her husband and lovely rescued dog Mona, or advocating for environmental and human right causes.
For more inspiration & insider tips in architecture, landscaping and interior design visit:
www.dmm-studio.com | Join the conversation on Facebook | Follow her on Twitter

To get her free guide: The 7 Steps for a Successful Renovation , just visit her website!